Virtual Pool
With four different pool games including 8-Ball, 9-Ball, Straight Pool, and Rotation, realistic physics designed by physicists, geometry developed by mathematicians, and lots of full-motion video sequences, there's quite a bit to go around in Virtual Pool.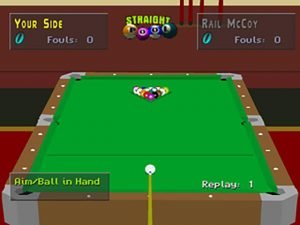 While the various 3D perspectives are adequate and the graphics are nicely detailed, it fails to present itself as an actual virtual experience. Though you can zoom in and out to get a feel for where the balls are located, you never really get a feeling that you're in control of the action. An overhead perspective option would have made the game much more playable. What's worse is you actually have the option to see things from an overhead view but have no way to utilize it.
If there's any reason to buy this game in place of playing real pool, it's for the FMV clips, which was quite rare at the time. It's a great way to learn trick shots as well as general pool strategies. By listening to "Machine Gun" Lou Butra's advice, you can actually benefit and improve your game. There's even a real instructional video contained on the CD that makes Virtual Pool worth picking up.
---
System Requirements: Pentium 90 Mhz, 16 MB RAM, Win95
---
Tags: Virtual Pool Free Download Full PC Game Review