Black Knight: Marine Strike Fighter
Black Knight: Marine Strike Fighter is a simulation of the F/A-18 Hornet, which is currently being used by both the U.S. Marines and U.S. Navy. At first glance, this game reminds me of F/A-18 Hornet add-on for Falcon 3.0 from Spectrum Holobyte and Apache from I-Magic, mainly due to the similarity in quality of the VGA graphics.
Black Knight seems graphically similar to some of Spectrum Holobyte's older titles. What makes it different, is the attention paid to cockpit detail and overall realism. You won't get mind-blowing USNF/MF style graphics, but Black Knight does deliver fairly realistic flight modeling, actual F/A-18 sounds, and some of the most realistic cockpit representation found in a DOS flight sim.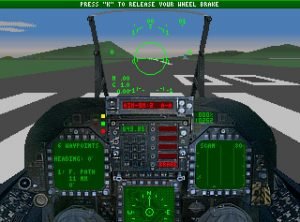 The gameplay is definitely there. Black Knight offers eight training missions (the one's with the on-board flight instructor) to help familiarize yourself with the F/A-18 Hornet strike fighter. Once you're ready to fly with the big boys, you can try to tackle some of Black Knight's 50 combat missions. Other options are "Create a Mission" and "Free Flight", which allow you to configure time of day, amount of enemy aircraft, etc. The flight recorder is a VCR-type option that keeps a recording of your mission, so you can go back and see where you screwed up or just watch the action ensue from many different points of view.
Black Knight offers a lot, and will run (at a good frame rate) on a slow 486. Sure, other SVGA games look better, but the high frame rate made the game more playable for its time. The air combat is fun, though hardcore enthusiasts will probably find it rather easy.
---
System Requirements: Pentium 90 MHz, 16 MB RAM, DOS
---
Tags: Free Black Knight: Marine Strike Fighter Free Download PC Game Review