Maximum Pool
Maximum Pool is an entertaining mix of classic and novel pool games, offering a total of 12 types with several table variations. The interface is easy to use and setting up a game is a breeze, allowing players to jump in and play either against each other or one player against the computer.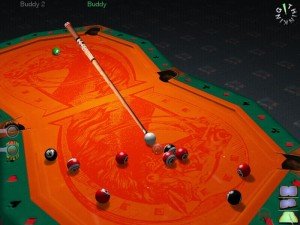 This pack contains a collection of seven traditional pool games, including Eight Ball, Nine Ball, Snooker and Cutthroat, plus a secondary set of five 'Cool' games that you probably won't find anywhere else. These include Rocket Ball, which plays in a similar fashion to a basic game of Billiards but adds three kerosene-fueled balls that are set off flying in every direction when struck. Mad Bomber adds explosive balls that can win you the day if you can sink them before their five second fuse hits zero. Poker, as you may have guessed, involves pocketing balls as you would combine cards.
Some slight tweaking is in order. Playing Rocket Ball on its own triangular-shaped six-pocket table is far too easy, occasionally leading to matches where the player conducting the opening shot ends clearing most of the table. The AI and difficulty models are good enough, with lower levels painting ball trajectories and featuring a more lenient AI. The physics model holding the game together is highly impressive, and the tell-tale 'clicking' sound of pool balls hitting each other holds weight. The game is fun, pure and simple, and is a great solo or turn-based multiplayer experience if pool's your thing.
---
System Requirements: 166 Mhz CPU, 16 MB RAM, 4 MB Video, Windows 98
WARNING:
This is a download button.
Please
READ THIS
before downloading!
---
Tags: Free Download Maximum Pool Full PC Game Review