SimSafari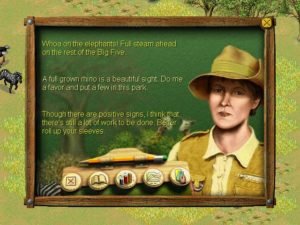 It seemed as if the folks at Maxis exhausted every Sim idea there was. Somehow, however, they always manage to come up with something new, which is why they've turned to Africa for SimSafari, a title designed for kids of eight and up that proves to be an interesting, albeit simple, game for all ages. There are three main areas for you to manage: the park, where your plants and animals reside; the camp, where yuppies can pretend they're "getting back to nature"; and the village, which you influence through employment and profit sharing.
The main strategy in the game is balancing economics and nature. You need a good park to attract visitors, who'll shell out the cash that allows you to purchase even more exotic animals. The local village can be both a foe and an ally – in good times, you'll see it grow and expand. When things get rough, they'll turn to poaching in order to survive.
Ultimately, the game is probably too easy and limited for adults, but that doesn't necessarily mean it's not entertaining. On the contrary, much of the pleasure from the game is derived from plunking down some plants and animals and seeing how they relate to one another. With the economics pretty much out of the way (it's not hard to make money), you can spend more time designing the ecosystem of your dreams.
---
System Requirements: Pentium 166 MHz, 16 MB RAM, Win95
---
Tags: X-Files The Game Download Full PC Game Review