RollerCoaster Tycoon 2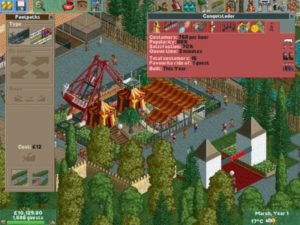 If you've played the first RollerCoaster Tycoon then you've already played the sequel. The isometric graphics are exactly the same, the gameplay is essentially unchanged, and the most requested feature — the ability to ride coasters in a first-person perspective — remains absent. That said, it's still the best rollercoaster / amusement park sim ever made. Though why it's been deemed a full-fledged sequel instead of an expansion pack can be anyone's guess (*cough* money *cough*).
So what's new in RollerCoaster Tycoon 2? The big news is that the second-most-requested addition — a separate rollercoaster editor — has finally been implemented, allowing you to design coasters free of crowd or cost considerations and then save them for later. And then there's the acquisition of the Six Flags license. Though the box advertises that you can test your Tycoon skills with five Six Flags parks — Magic Mountain, Great Adventure, Belgium, Holland, and Six Flags Over Texas — what it doesn't say is that a ton of licensed props and rides have been left out.
RollerCoaster Tycoon 2 comes with a total of 20 new scenarios, larger park maps, and all-new rides and rollercoasters (like the Giga Coaster and Inverted Impulse Coaster). It also adds more prop themes (Wild West, Pirates) and a few minor customization tweaks, such as the ability to build tunnels or enclosed cue lines.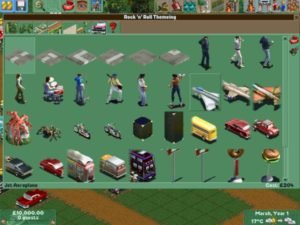 Managing your park is exactly the same as in the first game — like before, you can borrow money, launch advertising campaigns, hire staff, buy land, and put money into developing new rides and attractions. The detail is dazzling: some of the Six Flags–exclusive coasters even have the rides' actual logos emblazoned on their entrances. A tested coaster can categorize a range of data, such as maximum speed, ride time, gravity force, "air time,†and number of drops. An exhausting amount of info.
Don't get the wrong idea, despite the lower score, RollerCoaster Tycoon 2 is definitely a better game than the original – if only for having more stuff to play around with. In every other regard it's essentially the same game. But players who've spent days or weeks building the best amusement park around from the first RCT will be thrilled to find not much of its addictive A-game has changed.
---
System Requirements: Pentium 133 MHz, 32 MB RAM, Windows 95
Need more help?
Watch this tutorial video.
---
Tags: Free Download Roller Coaster Tycoon 2 PC Game Review