Saga: Rage of the Vikings
Set in the days when men wore skirts, grew lengthy beards and were judged by the size of their horns (on their helmets), SAGA: Rage Of The Vikings is a moderately entertaining if somewhat uninspired real-time strategy game that should appeal to fans of Age Of Empires, Warcraft II and Civilization.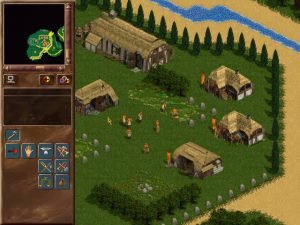 Graphically it's not up to the standard of Microsoft's Age of Empires, and at times the revamped Celtic music is just plain comical. That said, there are heaps of characters to play with, including Vikings, dwarves, elves and trolls, and an abundance of detailed buildings to construct. The facility to zoom in on the action is a nice feature, as are the changing seasons, the implication of the Viking code of honour, and use of magic; although some may find the interface a little complicated compared to that employed in AOE, which is simplicity itself.
With 60 different clans to fight and conquer, numerous alliances to forge and an expansive game world, there's plenty in the way of game play. And if you get bored of the campaign mode then you can always design your own levels using the easy-to-use map creator, or play multiplayer via LAN.
---
System Requirements: Pentium 90 MHz, 16 MB RAM, DOS
---
Tags: Saga: Rage of the Vikings Free Download PC Game Review