Rowan's Battle of Britain
Arguably two games in one, Battle of Britain can be both brilliant and frustrating.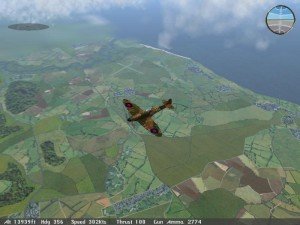 As a simulator, Rowan's Battle of Britain has solid graphics and gameplay, but a tricky flight model. The campaign mode has enough depth that it could almost stand alone as a strategy game, but the learning curve is quite steep if you want to make the leap from oblivious participant to strategic mastermind. Yet the significant time investment required to master Battle of Britain is not without payoff – in its impressive scale in the air and on the strategic map, it succeeds in evoking an intricate sense of authenticity that most flight sims lack.
Battle of Britain is set in the summer of 1940 and focuses on the Germans' efforts to achieve air superiority over England in preparation for an invasion. You do your part in the struggle from the cockpit of the Spitfire and Hurricane on the British side, or in the Messerschmidt 109 and 110 and Junkers 87 dive-bomber on the German side. You can also to serve as gunner in the German medium bombers – the Heinkel 111, the Dornier 17, and the Junkers 88.
Battle of Britain distinguishes itself with scale. From the campaign map you can direct thousands of aircraft at a time, and in the simulation you can participate in engagements that include literally hundreds of other aircraft. The game really pulls off the atmosphere of large-scale air battles well, although it does entail more confusion than enjoyment when things really heat up. The graphics are good on the whole, though by no means overwhelming, and the game sound and radio chatter is solid.
The flight model is a story of extremes. At low realism settings, the fighters are very forgiving; at the high setting they are so jittery that flying (not to mention dogfighting) is almost impossible. You might find yourself going for the novice flight mode just to have fun, but a stringent field of view makes hectic dogfighting really difficult. The enemy AI ranges from catatonic to superb, and if it is set on high, you will be rewarded with challenging opponents that employ excellent historical maneuvers.
The campaign takes place on a strategic map of England and the German airfields across the Channel. Playing as the Luftwaffe, you plan raids on English airfields, radar towers, factories, conveys, and other industrial targets to try to bring the RAF to its knees, and as the RAF, you assign patrols and scramble fighters to counter real and perceived Luftwaffe threats. You have an extremely wide array of options and information available to you in mission planning. On the strategic side you have the cool option of jumping right into a flight mission that you've assigned, lending a hand in the ensuing chaos as you hop from plane to plane.
Novice virtual pilots will not find Battle of Britain the most accessible introduction to WWII air combat, and may want to turn to Combat Flight Simulator 3 or European Air War. But all those with a love of detail and intricate strategy should get some kicks out of it overall.
---
System Requirements: Pentium 233 MHz, 32 MB RAM, 8 MB Video, 450 MB HDD, Win95

IMPORTANT:
This is a download button.
Please
READ THIS
before downloading!
---
Tags: Free Download Rowan's Battle of Britain Full PC Game Review