European Air War
One of the most intense WW2 dogfighters out there.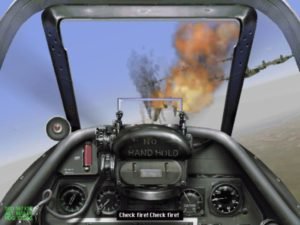 European Air War's strongest element is undoubtedly its line-up of aircraft. Twenty fighters and fighter-bombers are modeled, with variants of all the classics: five Messerschmitt 109s and 110s, two Focke-Wolf 190s, two P-51s, two P-47s, two P-38s, three Spitfires, and two Typhoons, not to mention the steadfast Hawker Hurricane Mk 1 and the hard-hitting Tempest Mk V. One notable fighter that isn't here is the Me-163 Komet, but as most World War II aviation buffs know, it was more of a deathtrap than a serious threat anyway.
The flight physics are accurately modeled for all the planes, from the powerful torque effect of the Bf109 and incredible roll rate of the Fw190A-89 to the tendency of the carburetors in Spitfires and Hurricanes to cut out in negative-G situations. Of course, beginners can choose to turn off things like stalls, spins, blackouts and redouts, and gun jams, but even if you're a beginner, you should try your hand at flying with the bulk of the realism settings activated; once you score a kill and get home safely in that mode, you'll never want or need to go back to simpler flight dynamics.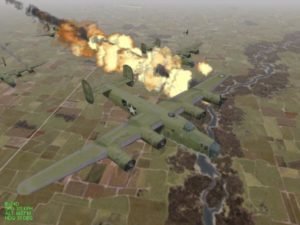 Like any great combat simulation, EAW lets you sign up for the long haul of a campaign: you can fly as a British or German pilot in 1940, 1943, and 1944, and as an American in 1943 and 1944. Mission types include fighter sweeps, bomber interception, bomber escort and interdiction (ground attacks), but occasionally you'll have to scramble from your barracks to beat off surprise raids by the enemy. For fast action, options to design Single Missions or fly Quick Start sorties are available to get you in the air with machineguns blazing with minimal effort.
The AI for enemies is very good, especially when set to the highest difficulty level, but that of your wingmen is questionable. Often you'll return to base to learn that you were the only one who scored any kills, leaving you to wonder just what your buddies were doing up there — and when you do check to see what they're doing, you'll be dismayed to find them committing egregious mistakes like failing to release drop tanks before engaging enemy fighters. Luckily, they'll at least follow your requests to drop tanks, come to your aid, or attack your target.
EAW does commit a few sins of omission — no gun camera, no way to set trim (much needed on long flights), no tutorial, and no map zoom, and no graphics resolutions higher than 640×480 (nevertheless, it looks great). These are minor gripes, though, and shouldn't be enough to deter the serious WWII flight sim fan from picking up this classic..
---
System Requirements: Pentium 166 MHz, 32 MB RAM, Win95
IMPORTANT:
This is a download button.
Please
READ THIS
before downloading!
---
Tags: Full Download European Air War Game Review