NHRA Drag Racing 2
The devs behind NHRA Drag Racing 2 have put in a lot of effort to make a good simulation, but it's not all that enjoyable. So what does it include? You can play a practice session, a single day's competition, or a full season in either a funny car or a top-fuel dragster. During the selection process, you can read short biographies of real NHRA crew chiefs and select the one whose style best matches your own.
Your goal in the garage is to create the perfect blend of raw engine power and the right tools to handle it. Too much horsepower without a capable transmission will cause your tires to spin on the pavement; too little will leave you sucking your opponent's exhaust.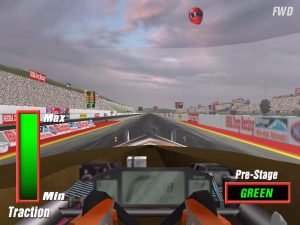 Vehicle tuning leans towards the oversimplified. Basically, you get to tweak eight sliders to adjust things like clutch timing, cylinder pressure, or the nitromethane content of your fuel. Tantrum is to be commended for the ease with which a novice can get into the game even at the highest difficulty level, and also for the brief but well-written instruction manual. A few hours in the pits will get you a blazingly fast car — but by then you'll have exhausted most of the game's possibilities. An advanced mode, with more numerous and realistic vehicle adjustments, could've extend the life of this game.
---
System Requirements: Pentium 90 MHz, 16 MB RAM, 50 MB HDD, Win95
Tags: Free Ultimate NHRA Drag Racing 2 Download PC Game Review