Microshaft Winblows 98
In short, Microshaft Winblows 98 is a spoof on Windows 98 and Bill Gates, containing a string of FMV with various jokes poking fun at both as well as minigames that dress everything up in satire. Included games are "The Roll Ahead" a strategy board game where the player has to recreate Bill Gate's road to success, "Billagotchi" Bill's cyber ego that has to be fed money once in a while and the trivia game "Win Bill's Money".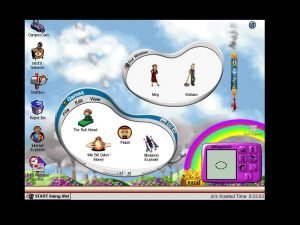 The "Campus Cam" allows you to take a peak in the daily going ons at Microshaft, "MSTV" shows you the future of television according to Microshaft, "Reject Bin" shows some failed Microshaft products, "Bill's Personal Outlook" allows you to look at Gate's personal files and "Winblows Exploder" allows you to blow up all those computer related annoyances. None of the jokes holding this minigame collection together aren't funny. The jokes in the Campus Cam are cringy as all hell, and so are the presenters with their unending quips about the buggy nature of Windows 98 and corporate greed.
---
System Requirements: Pentium 90 MHz, 16 MB RAM, Win95
---
Tags: Free Microshaft Winblows 98 Free Download PC Game Review