Connections
James Burke has found fame and recognition worldwide for his amazing "Connections" television show on The Learning Channel. He has a great way of showing you how everyday objects, such as a copper penny and a fingerprint, are connected while giving you a small history lesson in the process.
For Connections the game, Burke brings all of his knowledge and experience from his TV show to the PC. But in the transition from television to CD-ROM game, Discovery failed to really make this piece of edutainment fun. Connections starts off with a tired, but workable game idea: The world is made up of a web of interconnecting elements, and an evil madman has disrupted the web. It's up to you to save the world. How? Find the connections between seemingly ordinary objects, of course.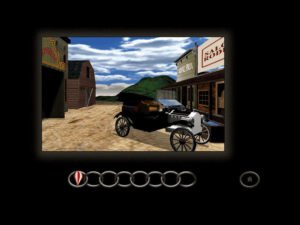 The problem is that you have no idea what objects you are looking for. You are placed in an environment that combines objects from different eras, such as a '50s kitchen inside the Sphinx, and forced to go searching for objects. Luckily, once you stumble upon one, the object shows up in your connections chain at the bottom of your screen. From there, you can click on the object to have Burke give you a short history lesson on the importance of the object. There are only five levels, with a total of 5-6 hours of gameplay.
Discovery Channel Multimedia tries to sell Connections as a "mind game," but it doesn't take a lot of thought to get through it. The puzzles are pretty simple, even if they do get harder as the game moves on. There are times, however, when Connections requires too much thought. For example, it is almost impossible to know what is missing in your chain of connections. You would have to be as smart as Burke (or willing to do a lot of research) to know that a match is the connecting piece between carbon paper and an oscilloscope.
In the end, though, it doesn't really matter if you know the connections. To finish each level, you just have to wander around, solve a few minor puzzles, and touch as many objects as you can. It doesn't make for interesting gameplay, nor an interesting game.
---
System Requirements: 80386/33 MHz, 8 MB RAM, DOS

---
Tags: Free Download Outlaws PC Game Review