Leadfoot: Stadium Off-Road Racing
The developers at Ratbag Games have plumbed some new corners of racing with its releases in the Dirt Track Racing series of games. Ratbag then set to take on another underdone form of racing with stadium off-road truck racing game, Leadfoot.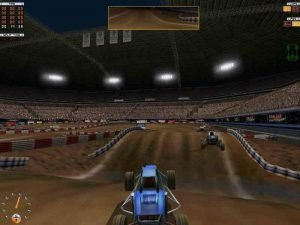 Stadium off-road truck racing isn't exactly the most popular form of motorsport. If you've spent time with Ratbag's earlier releases, you will find a lot of the same in Leadfoot. Quick races are back along with the entertaining career mode. The early version contains all the vehicle setup options of previous releases, but is geared toward the buggies and trucks found within. You'll be able to change tire grooving, suspension setups and gearing. All of which combine to put a simulation feel to the game. But that doesn't mean novice or casual players can't find the game enjoyable.
As with the other releases from Ratbag, the game will cater to the arcade racer as well through sliders allowing variable AI and a more or less difficult driving model. Control is precise at this early stage and includes support for keyboard, mouse, joysticks or steering wheels. Force feedback is also included and the rough riding nature of the driving gives a good workout for the arms.
The tracks are designed with high-flying jumps and tight circuits confined to a stadium-sized space. This creates a lot of close racing and overturned vehicles as you battle up to fifteen opponents on both indoor and outdoor circuits. Quick races allow you to race a variable number of laps while the career will use fixed length events. Within the career, you'll have to buy upgrades and vehicles while maintaining sponsors in order to enter tougher but richer races. You'll start with the light and low horsepower buggies and work your way up to the big trucks with big horsepower.
The thrill of high speed racing over big jumps in close proximity to ten other human racers is undeniable. However no combination of both multiple humans and AIs are offered. Still, Leadfoot is aiming to satisfy the needs of both sim and arcade racers. With damage, tire wear and a garage that should please the sim fans as well as the fast, rough, close racing that appeals to the arcade crowd, the game is in a unique position to capture a diverse crowd.
---
System Requirements: Pentium II 233 MHz, 32 MB RAM, Win95
---
Tags: Leadfoot Free Download Full PC Game Review