Master Rallye
Based loosely on the 5,000-kilometer trans-European off-road race of the same name, and co-developed for the PlayStation 2, Master Rallye (not a typographical error) places you behind the wheel of over 20 robust 4x4s, buggies, and purpose-built racing trucks. Featuring a gameplay style that falls somewhere between 4×4 Evo 2 and Insane, Master Rallye is an fairly appealing treatment of cross-country "raid†rallying.
But once you get past the game's richly textured terrain graphics, you're left with a marginal arcade racer that's been saddled with some disappointingly floaty driving physics. The absence of any proper cockpit view or rear-view mirrors — not to mention mouse support in the front-end menus — further underscores the game's console roots.
To its credit, Rallye does offer a healthy dose of gameplay options, including over 250 miles and 30 stages of point-to-point racing, spread over seven countries. There's also a two-player split-screen mode and four-player GameSpy support for the socially active crowd. Damageable vehicles and challenging AI competition add to the experience, but the inability to drive your machine more than a few dozen yards off each course's predetermined path (and some positively anemic force-feedback effects when you're off-road) won't win over any hardcore simmers.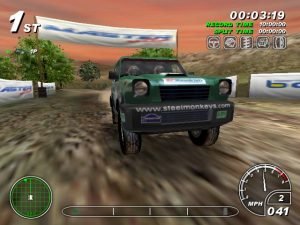 While it may not reproduce the full 3,000-mile course from Paris to Moscow, or let you properly "find your own path†as the game box optimistically promises, Master Rallye does offer an attractive and stable platform from which to kick up some impressive-looking particle effects. The inclusion of eclectic vehicles such as the Indian-built Tata Safari or the Schlesser-Renault Buggy also adds a nice curiosity factor. If convincing physics aren't terribly important to you, Master Rallye might earn itself a significant hitch on your hard drive… until you install Colin McRae Rally 2.0.
---
System Requirements: Pentium III 500 MHz, 128 MB RAM, Win98
---
Tags: Free Master Rallye Download PC Game Review