SODA Off-Road Racing
Creators of NASCAR Racing try the less beaten track.

As a simulation of off-road racing, SODA Off-Road Racing is as far removed from a game like Sega Rally as NASCAR Racing 2 is from Daytona USA. Compared to the other products created under the Papyrus name (from the classic Indianapolis 500 to the, well, classic NASCAR Racing 2), SODA is uncharacteristically bland and generic. They've done their best (or worst) to mask the simulators' excellence by putting it in a wrapper that is both slow and ugly.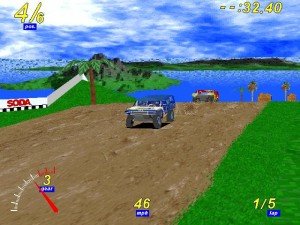 SODA stands for the Short-Course Off-Road Drivers Association, an organization that sponsors a series of races popular throughout the Midwestern USA. SODA, the game, simulates three different vehicles, a two-wheel and four-wheel drive truck and a two-wheel drive buggy; all are simple to drive but difficult to drive quickly, providing a unique challenge for any hardcore race fan. Overall, the feeling of being on the edge of adhesion (and disaster) is fairly well represented. The vehicles slip and slide through turns, and the high-horsepower trucks tend to spin a lot.
The game supports a career mode, single races and network play for up to six. You can race on any of the included 12 tracks or use the well-documented track designer to create your own. Having the possibility to design one's own tracks is a good move, but the nature of such a program will inevitably lead to tracks that feel somewhat 'cooky-cutter' designed.
Unfortunately, your first thoughts about the game won't be directed at the simulation or the slick add-on features. Instead, you'll look at the visuals and likely cringe. The game only offers support for 3D accelerator cards based on the Rendition chipset. Big mistake. Without acceleration the terrain and cars both look abysmal. Although the cars are poorly textured, as 3D models they fare pretty well, with the articulated suspension drooping and sagging as you bound over hills and accelerate through turns
Though it's unlikely to satisfy people interested in the visual kick of a game (it can't even hold a candle to NASCAR Racing 2), the actual simulation in SODA is worthy of the Papyrus name. The vehicle physics feel "right" (at least compared to driving a "real" truck or buggy on ice and snow). It's a decidedly mixed bag of a game, but for hardcore race fans, it's worth sorting through.
---
System Requirements: Pentium 90 Mhz, 16 MB RAM, Windows 95
---
Tags: Free SODA Off-Road Racing Download Full PC Game Review