Interstate '76: Nitro Pack
Interstate '76: Nitro Pack is as much an attempt to remedy the original game for its shortcomings as it is a proper add-on pack, and to that effect we get a great assortment of new stuff to go along with its many fixes. Not too bad an offer as far as expansion packs go.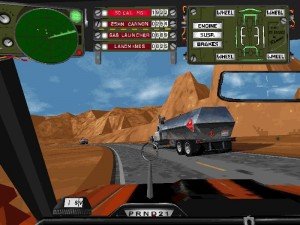 Activision's standalone Nitro Pack recalls events preceding Jade's death, featuring packets of solo missions playable in any order. While a lack of cohesive plotting is sometimes disruptive (see X-Wing vs TIE Fighter), here it works – the characters' lack of a purpose other than vigilantism, and the irrelevancy of time outside the confines of civilization, allow for isolated incidents in which the only real variables are the participants and the action. Much-needed difficulty levels and an impressive arsenal of new cars join the fray, and the terrific cast add greatly to the experience.
The Nitro Pack's best enhancements are probably multiplayer-related. These include capture the flag and racing games, the ability to set victory conditions, and sorely-needed cheat prevention. On the technical side we get Rendition, GLIDE and Direct3D support. Some of the engine's more glaring issues and limitations are still present, including overtly jittery cars and a host of graphical glitches – be it clipping problems, terrain ripples or perspective projection errors on its native non-accelerated software mode. But the old horse runs marvelously error-free on Windows XP, though recording gameplay footage is a different matter altogether.
The solo game structure also remains problematic at times, since the AI is weak and the missions, though interesting, are again wholly scripted right down to the placement and behavior of enemy vehicles. Enemy cars can't always follow if you duck behind a building or ridge, and vehicles attempting to flee will sometimes corner themselves in ravines, at which point they go dormant in confusion or get hung up on the side of a cliff for you to destroy at your leisure. Escort missions have their own set of problems thanks to the haphazard AI, but at least you can skip 'em here.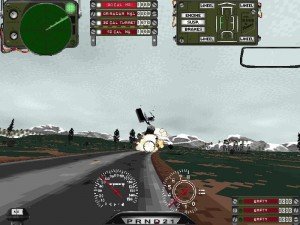 When all is said and done, the Nitro Pack's new missions, technical enhancements and observance of I-76's inimitable style make it a worthwhile retrofitting. At the same time, the add-on also suggests many of the game's basic flaws are too serious to be remedied by mere tune-ups. Perhaps the Mechwarrior II engine lacks the technical proficiency to reproduce the gritty cool of the cutscenes and voice-acting or the design is simply too ambitious for its own good. Whatever the reason, I-76 remains a great game and its Nitro Pack gives the original some much-needed horsepower.
---
System Requirements: Pentium 233 MHz, 32 MB RAM, 8 MB Video, 450 MB HDD, Win95

---
Tags: Free Download Interstate 76 Nitro Pack Full PC Game Review