Hooves of Thunder
Knee deep in horse sheets.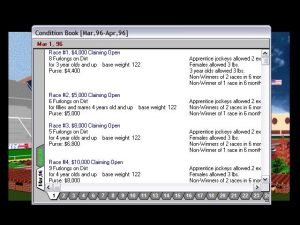 The old days of gaming had opened the door to many possibilities. Hooves of Thunder, a horse racing simulation, is just such an oddity. It's actually more than 'just' a horse racing sim – you can manage your own stables and engage in betting. Keep your bets small until you get a chance to study how horses perform at different lengths and track conditions. Then step up the wagers and look for horses to buy. It's an involved and sometimes tedious process, but fortunately the game rewards you with consistent, logical outcomes, so your perseverance will pay off.
The game advances on a calendar, with 125 races a year to challenge your luck playing the ponies and your skill at building a winning stable. There are five racetracks on the circuit, both turf and grass. As a stable owner, you buy and sell horses, choose trainers and jockeys, and decide when to run your horses. For a little side action, you can bet the whole bank on any race.
All the data you need is at your fingertips, including jockey, trainer, and horse histories. If you're unsure which races to enter with which horses, you can let your trainer enter races while you study the other horses and watch your bank account dwindle. And if you don't care to watch every single race — and you probably won't — you can fast-forward to a specific date, or to an auction, claiming race, or a race in which you have a horse running.
The flexibility of Hooves of Thunder doesn't force you to play the game in a certain way, and provides a balance of gameplay for nearly ever interest at the track. You can bypass the stables and concentrate on betting, or you can keep your money in your pocket and focus on building a rich stable. All of this is fairly interesting after some perusal and the gameplay is quite consistent. The only problem? The presentation is about as exciting as going through an EXCEL spreadsheet,
---
System Requirements: 80486DX2 33 MHz, 4 MB RAM, Win 3.1
---
Tags: Free Hooves of Thunder Download ISO PC Game Review