NHL Eastside Hockey Manager
This game is a stat-heavy hockey team management game from start to finish. The level of statistical detail in NHL Eastside Hockey Manager is, in a word, ridiculous. Each player, from NHL stars to international players and double-A prospects, is tracked numerically in 27 different mental, physical, and technical categories, ranging from how well he handles the puck, to his work ethic and his locker-room demeanor. By and large, the numbers give you more than enough info to construct a powerful set of lines.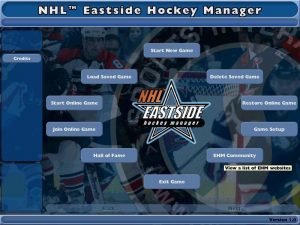 Once you're in the game, tactical management is key; between games, it's all about managing team finances. All your personnel moves are beholden to your shadowy board of directors, and they often have high standards for you. You're stuck with the budget they allocate, so don't expect to pull off any blockbuster trades. The game's interface is a tad convoluted for the average player, but once you decipher its quirks, it's easy enough to navigate. As with most sports management sims, Eastside Hockey Manager is a low key niche product. But what it does, it does very well.
---
System Requirements: Pentium III 750 MHz, 128 MB RAM, WinXP
---
Tags: Free Download NHL Eastside Hockey Manager Full PC Game Review