F1 Manager 2000
EA's F1 Manager let's you step into the big shoes of managing a Formula One team from the 1999 season onward. It might not be a glorious a task as speeding down the road at breakneck speeds, but this is more than compensated by the huge amount of control you have, not to mention the insane amounts of cash you have to carefully shuffle to make sure everything runs smoothly.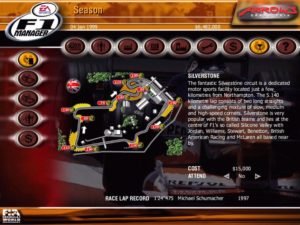 The game's interface is both sleek and functional, as is the rule with most EA Sports titles. The 3D engine used during the races (which you can watch, but not directly participate in) isn't quite as detailed as in a full blown simulator, but gets the job done. EA didn't let a good license go to waste, so all of the tracks, sponsors, drivers, teams and employees have their real names and pictures in F1 Manager.
The game, however, is a test of patience as much as skill. The entire system is centered on sending off e-mails to people for contracts, and then wait and wait until they have the good grace to respond. While you wait you can do some other stuff, like tweaking and upgrading your car. Sadly, that's all done for you. This is all nice if you're looking for an easy access game, but it's pretty shallow for those who want a more hands on approach.
Once you've fitted your car with the best equipment it's time to race. Thankfully things are a lot more involved here – you have the ability to choose drivers set-ups, strategy, aggressiveness, and watch how it all plays down on the track.
---
System Requirements: Pentium 133 MHz, 64 MB RAM, Win95
IMPORTANT:
This is a download button.
Please
READ THIS
before downloading!
---
Tags: F1 Manager Download Full PC Game Review