Hoyle Friday Night Poker
Lots of Poker, but little else.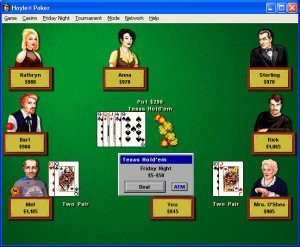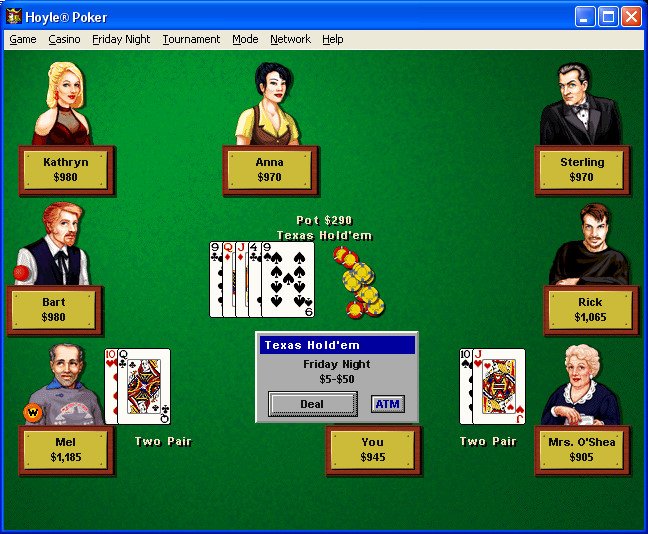 This '97 edition of Hoyle Poker numbers a whopping twenty-three Poker variations, with some obscure games including "Cincinnati", "Baseball" or "Murder". You'll also get all the standard fare stuff as well, such as Texas and Omaha Hold 'Em, 5 and 7 Card Stud (both standard and Hi-Lo), and an optional tournament mode. This package seems tailor-made to please Poker connoisseurs, but beginners can also delve deep into these games thanks to the included text files covering each and every game in detail. An optional "Tutorial" mode gives you pointers as to what move you should make next.
Although the game is crammed on a +500 MB CD, it seems to lack greatly as far as multimedia and customization. The visuals are bland, there's no music, no way to adjust the character appearance, AI or dialogue; heck, you don't even get a main menu interface from where to pick your poker game upon start-up (you have to select them from the pop-down window menu). It would have certainly been an even lesser collection if it were the other way around, all flashy graphics and fewer Poker games, but there's definitely room for improvement here nonetheless. Other than that, any hardcore card fan that's not pretentious about visual flair (or lack thereof) should give this a look.
---
System Requirements: 66Mhz 486 Processor, 8 MB RAM, Win 95/98

---
Tags: Free Hoyle Friday Night Poker Download Full PC Game Review