Fly! II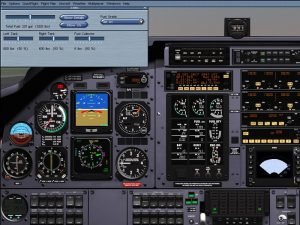 Like countless games before, Fly 2 was shipped before completion and requires a bit of patching for it to be fully operational. Fly 2 is the sequel to Fly2K, and while it retains the same basic look, feel and type of aircraft, much of the foundation has been altered. In particular, the addons and content for older Fly games wont work in Fly 2. And one can't help notice how poorly unfinished it is, from missing ingame terrain to the 38-page paper manual that came in the box (a more complete 332-page PDF manual has since been released).
The planes range from a single-engine prop plane to a business jet. Flyable aircraft include the Pilatus PC-12, twin-engined Kodiak, King Air B200, Hawker 800XP or TRI Flyhawk. The most famous adition has to be the Bell 407 helicopter, which is quite a challenge to operate. And it's in flight that Fly 2 excels, where the atmosphere is accurately modelled right down to small bumps and wind changes. It's a shame the terrain is so flat and lifeless.
However lackluster and flat the terrain might look, the graphics engine has been noticeably improved in other regards, with greater viewing distance, weather effects and more accurate terrain elevation. Flight briefing and flight planning are included and can use many of the supplied navaids.
---
System Requirements: Pentium II 333 MHz, 64 MB RAM, 1.2 GB HDD, Win95
---
Tags: Free Fly 2 ISO Download Full PC Game Review