Microsoft Flight Simulator 2002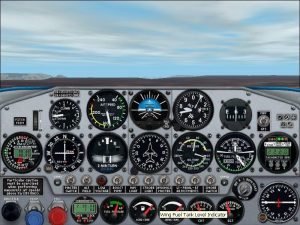 Lots of planes, interactive ATC and better AI highlight Microsoft's FS2002.
Flight sims don't necessarily have to involve shooting to make them fun. Try landing a huge Boeing 747 filled with a couple of hundred virtual passengers on a busy airport during a thunderstorm. Or see how tense you get when you fly your sailplane over the ocean, lose all of your lift, and have to find a pocket of hot air before you come crashing down. It's a different kind of excitement, but Flight Simulator 2002 excels in providing it.
In addition to the planes mentioned above, you can fly large passenger jets like the 777 or 737, the Cessna 172S Skyhawk SP, 182S Skylane and Skylane RG, the sophisticated Learjet 45, the acrobatic Extra 300S, and for a blast from the past, the Sopwith Camel. Cockpits for each aircraft are extremely accurate, and more than eye candy: every button and switch is live and does what it does in the real plane. Virtual cockpits allow you to seamlessly scan the sky – an elegant and useful feature, although virtual cockpits aren't included with all planes.
The world's airspace is your playground, with over 21,000 airports from around the globe to visit, from major airports to local municipal fields and grass strips. Detailed ground features are included for most major population centers, and a feature called "autogen" creates generic buildings, trees or lakes for less populated areas. The aircraft and terrain graphics are nice and framerates consistent.
Interactive Air Traffic Control finally made it in with FS 2002. Start your flight on the ground at an airport, and the ATC will direct you to taxi to a certain location where you will be required to hold your position until the runway is clear for your departure. The full ATC hand-off procedure is modeled, from taxiing to take-off to leaving the airport's flight space. On the other side of the flight it grants you permission to land, directs you to the current landing pattern, and then tells you where to taxi your plane.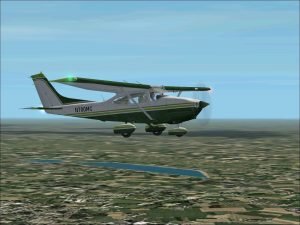 Now taxiing is quite a pain due to the lack of runway markings, although you can toggle an artificial purple line to guide you through. The airwaves are filled with ATC commands to all of the planes in your airspace. You can create flights as simple as jumping into a Cessna and taking off for a VFR flight around the countryside, or as complex as commanding a jumbo jet and filing a full IFR cross-country flight plan, with ATCs directing you each step of the way. The only thing lacking is the ability to declare an emergency to the ATC and the ability to change a filed flight plan during flight.
It's hard to think of anything that you might want to do in civilian flight that you can't do here. You can take flight lessons and be virtually certified all the way from a casual private VFR license to a commercial ticket, practice IFR flight at night in a Lear jet or just enjoy a beautiful day flying a biplane over your neighborhood from one grass strip to another, all with amazing accuracy. In short, Flight Simulator 2002 is quite an impressive bit of software.
---
System Requirements: Pentium II 300 Mhz, 64 MB RAM, 750 MB HDD, Win 98
IMPORTANT:
This is a download button.
Please
READ THIS
before downloading!
---
Tags: Free Download Microsoft Flight Simulator 2002 Full PC Game Review