Grand Prix Manager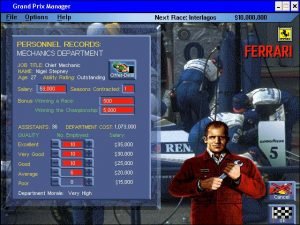 Grand Prix Manager gives you control over every aspect of running a Formula One team, from choosing engines, tires, fuel, brakes, suspension systems, and other components, to hiring and firing drivers and technicians. You'll even woo sponsors, and you decide whether to sell the hats, jackets, T-shirts, and toys that bear your team's logo. And once the groundwork is laid with sponsors, drivers, and your choice of car, you'll have to pull together all the pieces of the puzzle and try and win a championship.
The pursuit of speed is a key component in this constant battle, and if you don't keep on top of every aspect of your operation, you will fail. Not only will you have to make decisions on the design of your car, you'll also take charge during the race, deciding when to pit your cars and what type of tires to put on. You can also order your drivers to change their strategies on the track, to go for it or back off and save their cars. They might ignore your orders, though, claiming they couldn't hear that last radio transmission. But you're the boss, so you can fire them if they won't listen.
You'll watch each race as it unfolds, and while the graphics aren't the focus of this sim, the action on the track is surprisingly engaging. You see the action on all 16 tracks from an overhead perspective. Some players may think the graphics a bit crude, but they're better than I expected from a race management sim. Through its user-friendly interface, Grand Prix Manager will even let you edit just about any aspect, from the names of the team, drivers, and technicians, to the ratings of drivers and parts. This sort of flexibility is a small but appreciated touch, and it's too often overlooked in simulations.
---
System Requirements: Pentium 90 MHz, 16 MB RAM, Win95
---
Tags: Free Grand Prix Manager PC Download Full PC Game Review