Constructor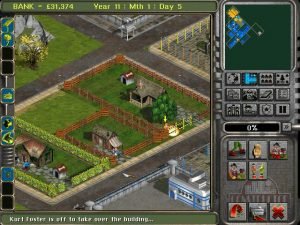 Constructor, developed by System 3 and published by Acclaim, has the "look and feel" of a Bullfrog game with its funny, cartoonish, construction-oriented gameplay. There's a ton of social commentary, poking fun of stereotypes about hippies, tenants, and local government; throw in a generous selection of ominous characters like nasty clowns, ghosts, crooks, psychos, mobsters, and things get pretty crazy. Constructor can also be played on a network, modem, or direct link by up to four human or computer, with three available AI difficulty settings.
The gameplay is similar to tycoon and RTS games – you've got units with experience and damage levels, resources (wood, cement, brick, steel), and plenty of construction. The first thing you notice are scurrying people, walking in awkward 90 degree angles. Quickly getting beyond that, you survey the zany atmosphere – it's fun to watch urban activity. Tenants, for example, might include little Junior picking his nose and someone practicing karate in his yard.
The interface is colorful, lively, and quite functional, making it unlikely you'll need to peck at the keyboard. However, more information could have been placed on the main screen. More than one zoom mode would have been useful – there is a full map view but something in between would have been nice. The game's graphics are very good, accompanied by quality sound effects.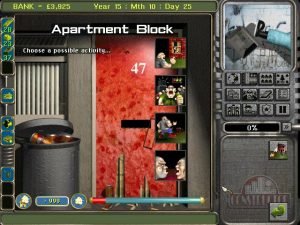 It's truly sadistic enjoyment to make your opponent miserable. You can harass, scare, beat, and kill his tenants, steal from them, set their houses of fire, capture buildings, build on his property, and force his people to dance to your hippie music! Don't dismiss tenants and council members because they can make or break you. The council adds to the game but there should be more variety and randomness in council demands. As it is now, the missions are scripted. Yes, this makes it easier for play-balancing but isn't too exciting after a while.
You're not going to learn much from the Quick Start tutorial in the manual but it fulfills its purpose for novice gamers. It's a tribute to the interface and game design that most gamers can probably muddle through without consulting the manual. Although there could be more screen shots and detail in the manual, it's surprising to find a few pages of charts at least at the end. But oftentimes there's just too much going on, making it frustratingly difficult to be on top of everything. Plus the combat options are extremely basic (move and fight) and it's tough to pull out a dying worker in the middle of melee.
---
System Requirements: 486/33 MHz, 8 MB RAM, DOS
Can't Run This DOS Game?
Click Here For Help!
---
Tags: Constructor Free Download PC Game Review