Motocross Madness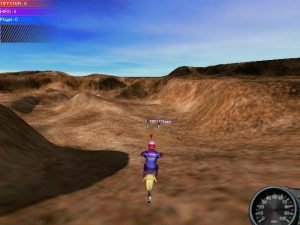 Motocross Madness is a really good arcade racer for its kind. It has the ease of play of an arcade game and the physics and depth of play of a simulation, wrapped in an aesthetically appealing package. The game is incredibly feature-rich, with multiple race styles ranging from stunt quarries to free-for-all Baja races and an editor that allows you to create your own stadium tracks. All of the pre-made tracks are superb, with innumerable opportunities for getting seriously airborne. You can race up to 10 computer AI opponents through the game's twisted courses.
Visually, the game looks pretty advanced for its time. The rolling terrain looks less like the usual square-ish polygons than a smoothed out version of NovaLogic's Voxel terrains. It's only flaw is a lack of objects like trees. Of course a high-end PC with a fast 3D card will allow you to appreciate it in all of its glory, but the number of opponents seems to affect the engine speed more than its overall detail.
As you soar across the sky and land on the ground with a mighty thud, you'll feel the rider's pain in various parts of your anatomy. Despite the possibility of personal injury, Motocross Madness is the most entertaining game in ages, a nearly perfect combination of superb gameplay, gravity defying physics and 3D graphics.
---
System Requirements: Pentium II 233 Mhz, 32 MB RAM, Win98
---
Tags: Free Motocross Mania Download Full PC Game Review