Trains & Trucks Tycoon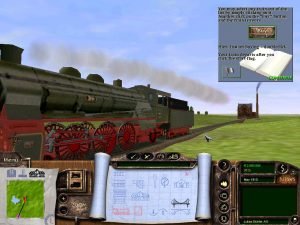 Trains & Trucks Tycoon is a business sim that plays in the same fashion as Railway Tycoon 2 or Locomotion. The goal is to connect various industries around the map (rendered in full 3D, in this case), buy trains and trucks, set up schedules for what goods will be transported, and hopefully make enough of a profit to expand. You'll compete against AI competitors with the same goals. unlike Railway Tycoon 2, Trains & Trucks also allows you to build roads as well as rails, and includes many historical trucks, locomotives and carrieges from the 19th and 20th centuries.
The way in which you handle the road and rail track building is quite interesting. It could have all fallen apart considering the use of a 3D engine, but it's surprisingly fluid that the camera rarely gets in the way. Laying tracks or roads will be your first priority, and the interface usefully lets you preview and change various layouts before commiting and spending funds. You then set up various statios and depots, purchase whatever engine suits your transportation needs, and assign specific routes.
As in RT2, it's important to think strategically when laying out connections for freight and passangers. For example, you should connect car factories to steel mills so as to supply the place with the needed raw materials. Also, transportation between huge cities separated by large distances are sure to nab a profit, but you'll need the fastest express trains for that. Fortunately, a handy set of tutorial missions holds your hand and makes things easier. The main campaign then takes you through scenarios encompassing various objectives, and then there's the freeform match that places you in huge world maps depicting places like Europe or North America.
---
System Requirements: Pentium II 233 MHz, 64 MB RAM, Win98
---
Tags: Free Download Trains & Trucks Tycoon Full PC Game Review