Railroad Pioneer
The year is 1830 on the new American frontier and people are starting to realize just how big the country really is. In an effort to bring people together, something must be built to trade goods and carry people. This something is the railroad.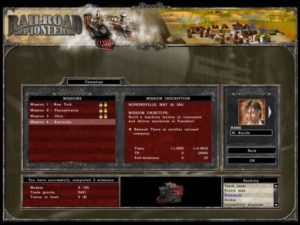 As the owner of a railway line, it will be up to you to place the tracks, maintain the trains and overall turn a profit so that you can expand. The eventual goal is to create a trans-continental railroad that links New York to California. But beware, natural obstacles, rugged highwaymen and competing companies will all get in your way and try to stop you. You'll also have to keep an eye on supply and demand to make sure the train is picking up the goods it needs in each station and which are the most profitable. Successful expansion will result in upgrades to rolling stock.
The game itself is a 3D construction and managerial game. Your only controls are where to lay track, where to direct & supply locomotives with and where to direct your geographers (people on foot) to. Different buildings allow you to build more pieces of your train, tweak the production of certain facilities and take on special missions that occasionally pop up. Getting goods to where they are needed most will reward you with a steady bankflow and allow your empire to expand.
---
System Requirements: Pentium III 600 MHz, 256 MB RAM, 600 MB HDD, Win98
---
Tags: Free Download Railroad Pioneer PC Game Review