The Devil Inside
Devil Inside is Resident Evil plus Tomb Raider and latex, all of it weaned on Soul Reaver. Granted, the engine is a bit different from Soul Reaver, but the entire game bears a stark similarity to the third Legacy of Kain entry. Another interesting aspect is that the game was thought up by Alone in the Dark creator Hubert Chardot.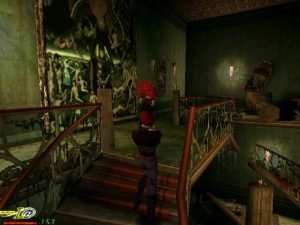 The hero of the game is Dave Ackland, an ex-cop, investigator and journalist. He takes the job of exploring a house haunted by zombies and other revolting creatures for a cable TV show. The idea is that a famous serial killer has seemingly returned from beyond the grave, and has taken refuge in an old creepy manor with other assorted monsters. Dave fights these fiends with old school firepower – shotguns, energy weapons, etc – as well as his trusty alter self, a demonese called Deva, into which he can shapeshift.
Those who have played those old school Alone in the Dark games will find similarities with Devil Inside. The action is creepy but not hectic, while the adventure element focuses a lot on finding keys inside the mansion. It almost feels like an early take on Alone in the Dark 4, except it's much less scary with the annoying reality show motif. The 3D visuals are quite nice overall, with appropriately bleak environments.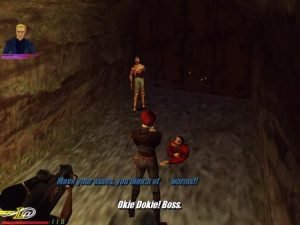 The Devil Inside has a variety of good characteristics, the most important being the continuity of the game structure, which provides non-stop playing: the game has not been cut to levels nor areas, the only times the action stops is when the game has to load the next segment, which often means you have to prepare to face your enemies. The downside of this structure is the awful console-esque saving scheme which forces you to sometimes replay long chunks should you foolishly perish.
The one negative aspect about this game is the contrived reality TV show gimmick that kills any pretense of horror. It defeats other positives of the game, such as the good soundtrack or dark visual. The other low is the saving system, followed by lesser faults such as not having gamepad support. As a game, however, it still offers passable action and puzzles, but with a mismatched presentation.
---
System Requirements: Pentium II 233 MHz, 64 MB RAM, 150 MB HDD, Win95
---
Tags: The Devil Inside Free Download Full PC Game Review