Rayman
If you're the least bit familiar with the console videogame market, you may know about UbiSoft's Rayman. This side-scrolling action game originated from the same nest that brought us Nintendo's Mario, Sega's Sonic the Hedgehog, and Shiny Entertainment's Earthworm Jim; it puts a cute action hero in the middle of intensive shooting, bashing, and jumping action, rendered in side-view 2D. And it looks like this little guy can hold his own with the best of them.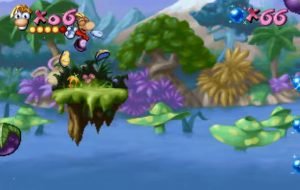 Like most games of its type, Rayman is a little thin on story, but in this case, the plot's worth a mention. The mysterious Mr. Dark has defeated Betilla the Fairy and stolen the Great Protoon from a peaceful world. As a result, the small electoons that used to happily circle the Great Protoon are scattered over the world, captured by the minions of Mr. Dark. Your job? You guessed it: free the electoons and make your way to Mr. Dark's lair to rescue the Great Protoon and restore universal harmony.
There are a lot of nice touches throughout, from the variety of Rayman's powers and the ability to choose which level you'll visit next, to cartoon-quality animations that bring it all to life. Each level is unique, ranging from traditional side-scrolling scenes to vertical climbs. And unlike other games that force you to try countless times to finish the same level, Rayman lets you choose your path from a variety options. Helpful, since you often have to go back with powers you receive later in the game to recover all of the lost electoons, which means more challenge in a familiar setting.
On the surface, Rayman looks a little like a children's game, but the colorful, cartoonish style of the animation will please players of any age. And, unlike many recent games of this type, there's no violence. The enemies are simply booted off the screen, not destroyed, and Rayman always has a happy grin on his face, even when facing overwhelming odds.
---
System Requirements: Pentium II 233 MHz, 32 MB RAM, Win98
---
Tags: Rayman 1995 Free Download Full PC Game Review