Power F1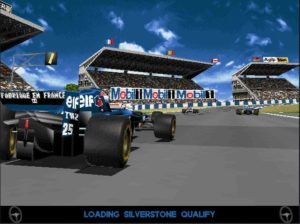 Power F1 from Eidos Interactive tackles the world of Formula One racing, serving up a satisfying blend of arcade fun mixed with real-world details. Before you get your hopes up, Power F1 doesn't claim to be an all-encompassing racing simulation. The emphasis is on action; it says so right on the box. While it stresses arcade action, Power F1 offers up a host of features you'd find in the best sims that add volumes to the arcade action. The tracks (all 17 circuits from the 1995 season) are rendered in Power F1 without 3D hardware acceleration.
Power F1 has steering and braking aids to get you familiarized with these 200mph screamers. Unfortunately, the soggy control setup just doesn't cut it on the track. Out of the box, the controls have a fairly wide dead-zone, forcing you to make exaggerated movements with a joystick or steering wheel and completely robbing the cars of their knife-edge feel. Car damage is tracked with an unrealistic point system, so smashing the nose of your car into the wall at 100 mph won't necessarily ruin your day. On the sim side, Power F1 lets you turn a few wrenches to tweak your car's performance. You can adjust wings, brakes, and gears, then save the setup.
Power F1 lets as many as eight players play over an IPX network. In addition, you can compete against another racer using split screen, a throwback to the early days of arcade racing. The split screen sounds like an easy way to share some racing thrills with a friend, but most gamers will find it awkward and confusing. With a big-screen monitor, however, it just might be crazy enough to work.
---
System Requirements: Pentium 75 MHz, 8 MB RAM, DOS
---
Tags: Power F1 Download Full PC Game Review