Port Royale 2
Trading fish and cannonballs in the Caribbean.
Those who've tackled Ascaron's Patrician series of trading sims already know half of what Port Royale 2 is all about, and if you enjoy the thrill of sailing boat-loads of coffee or rum from the first game then this sequel is for you. The twist here is you're shipping goods at the height of piracy and plunder in the Caribbean, bringing with it new dangers and rewards.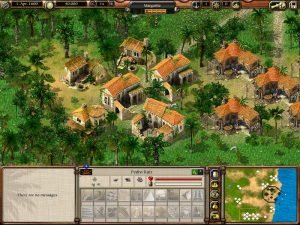 The main method to riches is trading with other towns, buying local goods low and selling them high where they are scarce. One of the more useful features here is that you can set up trading routes and have the AI produce, load and ship goods for you, removing the constant need to micromanage every ship when commanding a huge merchant fleet. When you begin you have a choice to be English, French, Spanish, and Dutch, and this effects how you are viewed in the ports in each of the respective powers.
Besides marauding pirates, other hazards of the open seas include hurricanes, shipboard rodents, sickness, and other nasty events that put a dent into your profits. The Pirates-inspired ship battles are still controlled by the mouse, a feature that might annoy some players. They're also pretty tough and more of an annoyance, although you can have an easier time with it by lowering the difficulty. Overall this is a pretty solid trading game with plenty of subtle intricacies, wrapped in a lovingly crafted exotic paradise.
---
System Requirements: Pentium III 700 Mhz, 128 MB RAM, Windows 98SE
IMPORTANT:
This is a download button.
Please
READ THIS
before downloading!
---
Tags: Free Download Port Royale 2 PC Game Review