FlatOut 2
The sweet symphony of destruction.
FlatOut 2 has everything you want in a top-notch arcade racing game. It runs fast, delivering a superb sensation of speed. It looks terrific, running at high frame rates even at high resolutions. It has a large amount of content, with plenty of tracks, a bizarre stunt mode, online multiplayer, and a full-blown career mode. And it has crashes. Lots of crashes. Cars break into pieces, debris litters the tracks, and you can take out most parts of a city. If you hit something hard enough, you can even launch your driver through the windshield.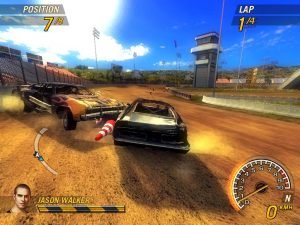 What FlatOut 2 doesn't have is the feel of some of the better racing games. There's no sense of connection with your vehicle and the ground, because the physics is too slick, as if you're driving on freshly polished linoleum. It's not like you expect Papyrus-level physics here; there's no feeling of weight transfer or momentum. Whether you're driving on asphalt, grass or dirt, your car has about the same tire grip, and some of the lighter cars suffer from a serious case of lunar physics – something to be expected out of an arcade racer, but still annoying when you were just about to win a race if not for a final split-second screw up.
The dings on the handling could be found in the original FlatOut too, and they're all that's keeping the series from taking it to the next level. Burnout has crappy handling, too, but it has the awesome crash mode to compensate. But to be fair, stunts in FlatOut 2 offer a genuine distraction. They appear to be played solo, but AI drivers participate off camera to offer some competition. After completing a set of rounds, you can view a scoreboard and compare how well you've performed against the competition. Best of all, you can scrap the AI players and play against another person via the game's turn-based Party-Mode multiplayer.
The stunts are actually more fun than the races themselves at times, especially with friends. All of them involve launching your driver out of your car at the highest possible speeds towards various targets. There are twelve stunt events in all, and they range from ski jumps (fly as far as possible) to bizarre things like poker, bowling, darts and even basketball. There are also 'event' races, which are short 4-lap destruction derby style tracks (they crisscross quite a lot), and of course actual destruction derbies where the goal is to smash or be smashed (last car standing wins).
* * *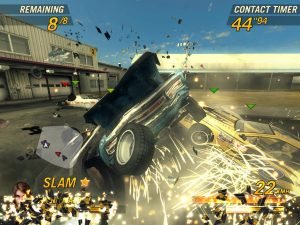 The racing in FlatOut 2 can be a bit annoying thanks to the flaky physics model, but the game compensate in other areas. The stunts are really fun, followed closely by the derby tracks. Its campaign mode is a bit of a drag – you unlock new races, earn money, better your car with a limited amount of upgrades, earn more money, buy a new car, etc. It's fortunate that the game offers every track, car and racing mode from the start, so you don't have to suffer through the entire 'campaign' to unlock all of the juicy stuff. I wish racing games did this more often.
In either case, you can't really go wrong with FlatOut 2 if all you're looking for is a simple, glossy arcade racer with plenty of dumb fun and even dumber physics. It's a winner all around.
---
System Requirements: 2 GHz CPU, 256MB RAM, 3 GB HDD, WinXP
---
Tags: Free FlatOut 2 Full Download ISO PC Game Review