NHL PowerPlay 98
After a somewhat successful outing with NHL Powerplay 96, Virgin took a year off the ice to re-tool and refine its hockey game in hopes of offering the first significant challenger to EA Sports' NHL series. NHL Powerplay 98 is the result, but whether or not it can push the series forward is a whole other story.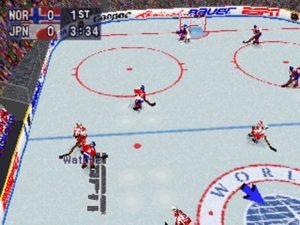 Of course, as a direct competitor to NHL 98, NHL Powerplay 98 squeezes in all of the required gameplay options to appease the hockey gods. You can jump into the game in exhibition mode, or lead your team through a full season and the playoffs. There is also a World Tourney mode consisting of 16 international squads. As you would expect, players can be traded and created, and all the rules can be toggled on or off to suit almost any taste. However, Powerplay 98 has problems in its presentation and really can't hold a candle to NHL 98.
Powerplay's game graphics struggle to keep pace with NHL 98, and there's very little chrome in the menus either. Pre and post-game statistics tracking is limited, and the interface screens are primitive. The player animation, with the exception of the goalies, is coarse and unrefined and never really captures the look and feel of real hockey, and even makes it hard to follow or anticipate the movement of the puck. The players move as if their limbs have no joints, and the face textures are truly frightening. The stadiums themselves are nicely rendered, but, again, don't look quite as good as those in NHL 98.
But the gameplay is the thing, and NHL Powerplay 98 hopes to outdo the competition with its artificial intelligence on the ice. The players do maintain their positions properly, which is certainly a good thing, but one curious side effect is that you're only able to advance the puck up ice by using short, crisp passes. The reason for this is because the action is slooooow. Even when hitting the speed burst button repeatedly, the players mosey their way up ice with little to no sense of urgency. Having to constantly pass the puck instead of having one player race from end to end to get into scoring position may be more realistic, but it sure does make things less exciting.
---
System Requirements: Pentium 90 Mhz, 16 MB RAM Win95
---
Tags: Free Download NHL Powerplay 98 Game Review