MotoGP 2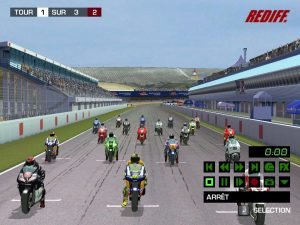 MotoGP 2 is surprisingly sim-like in both design and execution. Though no one is likely to confuse it with the much-heralded Superbike series, it still delivers first-rate racing, complete with 20 licensed riders and all 16 tracks from the 2002 GP circuit. More to the point, the game does a bang-up job of communicating the unique, intense physics at play in keeping a 180-mph GP bike on the straight and narrow. MotoGP 2 allows you to execute wheelies, endos, and powerslides with some judicious throttle, brake, and rider manipulation.
There are some weaknesses, to be sure — this is an arcade racer, after all — including a highly unrealistic off-course slowdown penalty (where putting a wheel wrong is tantamount to dynamiting the brakes) as well as an absence of proper brake lockups.
With a number of racing modes to choose from, including Quick Race, Career, Stunt, and Time Trial, variable racing experiences are easy to find. The AI can also be adjusted to suit just about any skill level (though it does exhibit a curious "hyperspeed†qualifying pace that bears absolutely no relation to the selected difficulty setting). Like most arcade ports, MotoGP 2 also demands that you unlock a good chunk of its content with positive on-track results, but with a little practice, this process is largely painless.
Hardcore motorcycle-racing simulations may be a thing of the past, but with well-crafted and addictively entertaining titles like MotoGP 2 around to satisfy the needs of arcade racers and sim fanatics alike, who's complaining?
---
System Requirements: Pentium II 233 MHz, 32 MB RAM, Win 95
---
Tags: Free Download MotoGP 2 PC Game Review