Mall Tycoon
Of the many tycoon-style games, Mall Tycoon sports one of the better concepts — design, build, and manage your own mall. But don't be fooled: what you get is just another lackluster entry in this genre.
Mall Tycoon offers 10 scenarios, plus a variety of Free Play Modes. The scenarios offer objectives such as increasing your mall's value, raising its rating to a certain level, or attracting customers. Some of the scenarios are enjoyable, particularly the one in which zombies infest your mall (in a nice homage to Dawn of the Dead), but even those are hampered by the gameplay problems.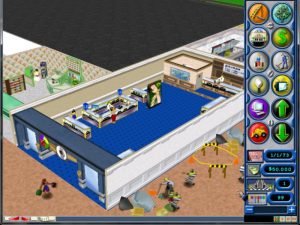 Right off the bat, the interface and the editing tools are pretty darn annoying. The auto-wall tool will seal off your entrances and prevent customers from entering your new stores — which, needless to say, makes it hard to earn a profit. There is no central financial screen: instead, information such as how much rent you're charging and whether or not you have any loans out is spread across numerous screens that you have to click through annoyingly often, which makes managing your finances harder than it actually should be.
My biggest complaint, though, is that you can't design your own stores: you have to use one of four ultra-bland pre-fabricated designs. Why can't you create a monster anchor store with its own elevators, escalators, piano players, and other amenities? Other issues include horrible graphics, crashes to your desktop, and insane loading times. In the end, you're left with another game soiling the legacy left by the excellent RollerCoaster Tycoon.
---
System Requirements: Pentium II 233 MHz, 64 MB RAM, Win95
---
Tags: Free Download Mall Tycoon ISO Full PC Game Review