Lords of the Realm II: Siege Pack
Sierra's Lords of the Realm II hit store shelves, was accepted by gamers as a solid but not outstanding title, then quietly faded, as do the vast majority of games. The main gripe that one can levy against LOTS II: Siege Pack is that it was never really called for considering the mediocre success of the original. But those people who did enjoy the old original will likely find a thing or two that will entertain them here as well.
Granted, there very well may be enough here to encourage you to break out the CD and reinstall the original. In the new campaign (as befits an expansion pack) the difficulty has been ramped up. New random events have been added, as well as a new terrain feature in battle maps (pitch, which can be set aflame). For custom games, a slew of new maps has been added, including some that are unrealistic yet challenging (such as "The Snake†which forces you to work through each province sequentially).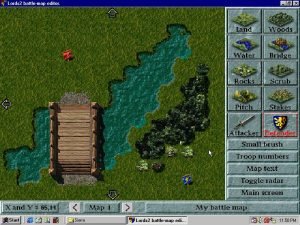 If you loved the individual battles of Lords of the Realm II, you'll be happy to find the inclusion of a Skirmish Mode. You can chose either open field battles or castle sieges (with several new and more elaborate castle designs). Play these with pre-assigned forces, or "buy†your own. You can customize skirmishes, and even build battle maps to do combat on. You can't, however, design new castles or "continent†(strategy game-level) maps. You do get more more more of what you like about the original game in the Siege Pack, which does a decent job highlighting the better parts of LOTR II.
---
System Requirements: Pentium II 233 MHz, 32 MB RAM, Win95
---
Tags: Free Download Lords of the Realm 2 Full PC Game Review