Knights of Xentar
Like old school Final Fantasy, but with more boobs.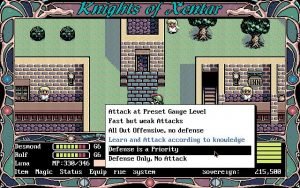 Knights of Xentar. It might sound like a classy role-playing game, but it's really not. Instead what you have is… of all things, a hentai jrpg with all of the assorted sex and nudity. The main gameplay premise is conventional – you control a party of 3 character. The courageous and enigmatic main hero, the sexy but powerful mage that doubles as a romantic interest and the super-strong warrior. You navigate them around a top-down world talking to NPCs and battling enemies as well as solving quests.
If it sounds cliche then you are absolutely right, but the fact is that the game lifts things up with plenty of funny dialogues and situations as well as interesting locations to explore and optional quests to solve. The combat system is semi-pasive, with you issuing commands in the form of stances and agression levels and watching as your characters fight around in a lateral 3rd person perspective similar to other classic JRPGs like the early Final Fantasy games. Surprisingly enough the fights are varied and hardly ever become frustrating, quite a feat considering the amount of random fights you have to endure in the main map and dungeon crawls as well as the requisite boss fights!
The graphics are slightly dated and can feel downright obsolete, but the play area is quite large and the graphics all have that cutesy super-deformed anime style that manages to overcome all technical difficulties and still be functional. In the end, the game doesn't take itself too seriously, and is more or less a parody of its subject matter. But it's still a semi enjoyable JRPG in the end.
---
System Requirements: 80486/33 MHz, 4 MB RAM, DOS
Can't Run This DOS Game?
Click Here For Help!
---
Tags: Knights of Xentar Free Download PC Game Review