Keepsake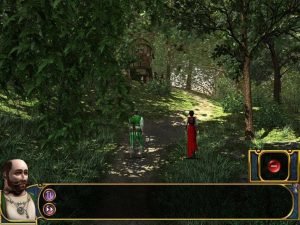 The story in Keepsake, a fantasy adventure game, centers on Lydia, a young woman who arrives for her first day at the Dragonvale Academy, a venerable magical institution where she expects to be met by her best friend Celeste. To Lydia's great surprise, the place seems completely deserted. After finding and freeing a peculiar creature named Zak, she then sets out on a complicated quest to find her friend and the rest of the people who are supposed to be there. Quite an interesting and multifaceted plot gradually unfolds, involving lots of twists and turns.
The setting is among the most amazing fantasy structures I have ever seen in a computer title. Dragonvale Academy contains the most awe-inspiring majestic architectural design imaginable. Set in the midst of an open forested area filled with flora and fauna and gorgeous waterfalls, you never have a sense of being anywhere near mundane reality.
The dragon theme is everywhere within the Academy, and the design down to the tapestries and carpets is exquisite. The lower floors are impressive enough, but when you finally get to the upper floors your wonder really escalates. Furthermore, it takes you quite a while even if you know where you are going to get from place to place, as you have to go up and down mammoth stairways and wend your way through endless passages; it would have been nice if some sort of "quick navigate" feature were available.
Keepsake takes you out of your comfort zone not only by transporting you to a fantasy setting but also by introducing you to the world of magic. Lydia's desire is to become a mage, and much of what you see in Dragonvale Academy is controlled by wizardry. For example, you need to rely on mysterious transporters to get to certain places. The structure itself defies the laws of physics. Given the pervasive presence of the supernatural, the scope of possibilities when you do your sleuthing is dramatically expanded.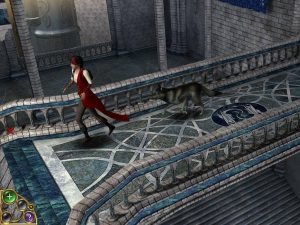 Keepsake won't hassle you with a double-digit list of inventory items to combine or use the environment. In fact, items are used automatically when you do something right or find the right spot at the right moment. In this sense the game is somewhat Myst-like in its presentation, even though it's a first-person adventure. The overall experience in Keepsake is fairly solitary. You won't find a huge number of characters to interact with on your journey.
Even with the included hint system, some of the puzzles are hard. Some of the puzzles are really hard (but not mind-crushing like some in the Myst sequels) but since there is excellent hint system – you can surely solve them. Even though Keepsake is a pretty solitary game, your sidekick Zak helps you a lot with adventuring and keeps you company most of the game. A few more characters wouldn't hurt though. But instead, Keepsake is more about walking here, there and elsewhere to solve the next puzzle, with little interaction. If you don't mind this type of gameplay, then there's plenty goodness to like here.
---
System Requirements: Pentium III 1.5 GHz, 128 MB RAM, Win98
---
Tags: Free Keepsake Download Full ISO PC Game Review