GTR
GTR: FIA GT Racing Game doesn't simulate a form of auto racing found in the United States. It's based around the FIA GT Championship, a series contested by cars from manufacturers like Ferrari, Dodge, Porsche, and Lamborghini. Their silhouettes are familiar to anyone with even a minimal passion for cars and provide the backbone of the best auto racing simulation since Papyrus closed its doors.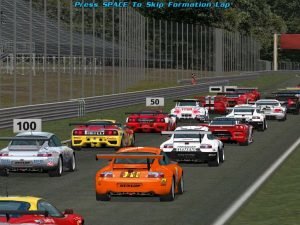 This is the racing simulation that meets everyone's needs. Arcade, semi-pro, and simulation modes of play are all tuned for their exact audience. A Gran Turismo-like driving experience, with short races against up to eight opponents, comprises Arcade mode. The handling is forgiving, allowing anyone to rip around famous circuits like Spa, Brands Hatch, and Monza. Turning the simulation up to Semi-pro introduces car setup, along with more realistic handling and tougher competition. Simulation mode contains top notch physical car modeling that separates this superb simulation from simpler "racing games,†and provides a full field of realistic AI drivers. GTR literally nails every game type, providing one solid racing package with universal appeal.
The developers went far beyond providing excellent driving. Everything you need to enjoy the game at any level is built right into the interface. The Internet is used transparently to provide you with game updates, news, online racing matchmaking, and by far its best feature, the ability to download car setups from players all over the world. Each car setup is notated and rated by others so you can try out the best. If you've always been afraid of racing sims because you don't know a damper from a gear ratio, GTR removes all that by allowing other gearheads to provide you with a car capable of winning. It's a positively brilliant addition to this niche genre of games, making it accessible to anyone.
The game provides distinct driving packages from among the world's most desirable sports cars. The Dodge Viper is a tail-happy brute force machine that's a blast to drive. The Ferrari 550 has that trademark Italian engine note recorded from the real thing. Their power in simulation mode strains your ability to finesse the car around the circuit.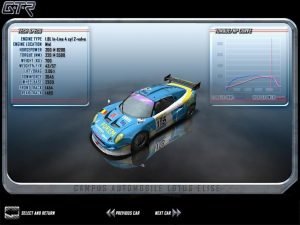 There is tremendous variety because the cars all feel so different. There are numerous options allowing you to tailor car control to your own skill level, or lack thereof. If you want to make it easier to apply power when exiting the corners, turn on Traction Control to eliminate that nasty wheelspin. Turn off damage if you're tired of picking up the pieces after failing to get Spa's twists and turns just right. The game goes out of its way to make you feel welcome, no matter how hardcore a race fan you are. But it never shies away from offering a full-featured racing sim on the level of Grand Prix Legends if that's more your speed.
A steering wheel and pedals are handy if you're going to take on the simulation mode. A variety of devices are supported, including a head-tracking display that immerses you in a complete virtual cockpit. In just one more nod toward complaints leveled at other sims, you can even adjust the seat visually to where you're most comfortable. If you only want to rip around in arcade mode, any analog control provides a total blast through the game's top-notch circuits. The cars bob and sway on the tires with an uncanny realism and precision that you can turn off, just like everything else. The amount of detail evident in the driving, the audio, the visual presentation and the interface is simply incredible and perfectly customizable.
The game was designed in part by real drivers competing in the FIA GT Championship, so it's really no surprise that the on-track product would be so good. Clearly these folks also played a pile of racing simulations and fixed everything that nagged at people in prior products all in one fell swoop. GTR is a brilliant game simulation that belongs on every gamer's shelf.
---
System Requirements: Pentium III 1.2 Ghz, 384 MB RAM, 64 MB Video, WinXP
---
Tags: Free Download GTR FIA GT Racing Game PC Game Review