ESPN Baseball Tonight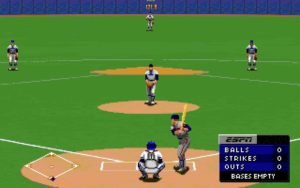 ESPN Baseball Tonight includes full rosters (up to 10 players) from all 28 teams during the 1993-1994 seasons, assisted fielding and lots of FMV. You can make trades between teams, but you can't eliminate players or edit statistics. The game fares well as far as realism, although there is one glaring omission. Box scores are not present during nor after the game. The game isn't the most statistically solid sim, but does provide a decent set of realistic numbers on the side.
ESPN Baseball Tonight isn't of the fast-paced, action oriented variety, so the flaws and limited AI are all the more glaring. But it has reasonably accurate play and a passable statistics model with a few key faults.
---
System Requirements: 386 33 MHz, 4 MB RAM, DOS
Can't Run This DOS Game?
Click Here For Help!
---
Tags: ESPN Baseball Tonight Download Full PC Game Review