Dark Earth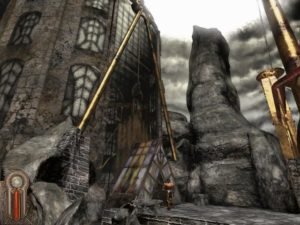 No use having nuclear bunkers here.
Dark Earth, developed by Kalisto, is a real-time action adventure that tells the story of a post-apocalyptic world. Its chilling introduction includes numerous nuclear bombs devastating the world's cities in a heartbeat – an event later to be known as the Great Cataclysm. Dark clouds of dust cover the earth, choking all life. Only a few fortunate souls escape to higher ground where life can still survive. There, these lucky few erect a temple to the sun in gratitude, and develop a new civilization.
Years later, this sun-worshipping cult produces Arkhan, our sword-wielding hero. He becomes contaminated with a disease they call "the black rot." His former friends, who are now afraid of him, shun him and his enemies try to kill him. He is forced to sneak around in the dark corners of the city to find a cure. In his search he uncovers prejudice, deceit, corruption and conspiracy.
As in most traditional adventures, Arkhan must interview all those he meets and search every room for objects to help him in his quest. There are a number of combat situations, however, which also turn Dark Earth into an action game, although the combat is fairly clunky. Thank goodness there's an easy mode for the completely arcade impaired. What you should be worried about is the time limit of the game – screw around for too long and Arkham will eventually be overcome by his disease.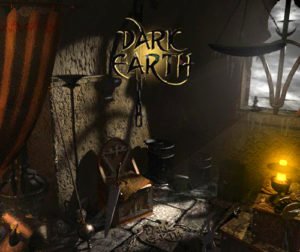 The graphics are for the most part stunning. The settings are always startlingly innovative and realistic, blending together wonderfully creative backdrops with 3D characters and props. The remnants of the pre-war world have been gathered and stored in various rooms. Enterprising mechanics have even been able to get some of the old machines up and running. The point of view camera constantly changes as players take Arkhan for a stroll or whenever he's engaged in combat. It's very cinematic. Dark Earth is definitely an adventure you'd want to play, if anything because of its mystifying environments and characters, if not for its combat.
---
System Requirements: Pentium 75 MHz, 8 MB RAM, Windows 95
---
Tags: Dark Earth 1997 Download Full PC Game Review