Blake Stone: Planet Strike!
A sequel to the original Blake Stone game, Planet Strike! doesn't dramatically change things and features everything from the original game except the elevator. In the place of the elevator, the player must now collect a bomb on every map and bring it to a security cube; the bomb will destroy the cube allowing the player to use the exit.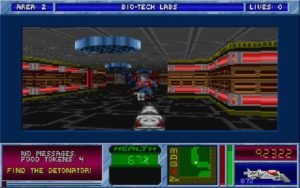 It features 24 new levels, played in a single episode in a linear fashion (despite a between level map trying to convince you otherwise), a new weapon, the Plasma Discharger (which functions as the game's ultimate weapon), and several new bad guys and bosses. Though the "new bad guys" comment is a little misleading as only one of them is actually all new; the others are the boss aliens from Aliens of Gold (with their stats reduced to non-boss level) or simply slightly edited and re-coloured bad guys from the previous game.
---
System Requirements: 80286 CPU, 640 KB RAM, DOS
---
Tags: Free Download Blake Stone 2 Planet Strike PC Game Review