Battlesport
While there is little to redeem or distinguish this game from a landfill of bad console ports, Battlesport mercifully shuns the requisite over-hyped movie license and attempts to break out of the jump-and-shoot mold with a 3D twist.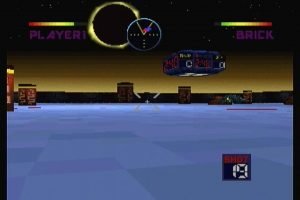 Originally made for the 3DO (hence the dated graphics), Battlesport is a futuristic sports game where the player slips behind the controls of a massive hovertank to engage in one-on-one arena-style competition. Though the basic gameplay is little more than a glorified deathmatch, the real goal of each player is to gain control of a ball while using a variety of power-ups to distract or disable your opponent in order to make that winning shot. It combines Ballblazer, a teaspoon of T-Mek, and toss in the giant pixels and garish graphics from Zephyr.
Despite its fairly promising premise, Battlesport's gameplay is dull and unappealing. You roam around a claustrophobic arena collecting power-ups, shooting at the enemy, and firing the ball at the goal with endless repetition, against a field of inadequate computer controlled goons. In typical console fashion, your adversaries have menacing names, fearsome reputations, and special abilities, but these rarely translate into any perceptible challenge ingame.
---
System Requirements: 80486/33 MHz, 8 MB RAM, Win95
---
Tags: Free Battlesport Download Full PC Game Review