Airborne Assault: Highway to the Reich
If the name Airborne Assault sounds familiar, it's also the name of Panther Game's older game, the excellent Red Devils Over Arnhem, which covered just the battle for Arnhem during World War II's Operation Market-Garden. Highway to the Reich is essentially the same game expanded to cover the whole of Market-Garden, and enhanced with tweaks and improvements to the underlying wargame engine.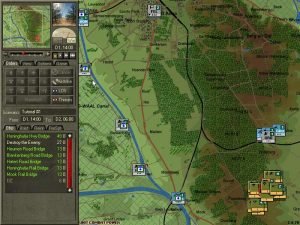 Like its predecessor, it breaks the familiar wargame modes of hexes and turns, instead working in a continuous-time environment — adjustable, sped-up real-time, with the ability to pause — with a gridless map. Units still have "counterâ€-like marker icons, but they can occupy more realistic areas dependent on their formation and footprint. Furthermore, it also has a detailed command structure. You can issue orders to a headquarters unit and your subordinates will smartly organize the sub-units to carry out those orders. In addition, the AI (enemy and subordinates) is quite challenging.
Highway to the Reich adds to this system the option for realistic orders delays, making planning and reconnaissance critically important (and successful surprises oh so sweet). The only thing that would have been nice to see on this front is delays in reports up the chain of command as well as in orders down.
There are also a few additional usability features, the most prominent of which are the new fire control tab, which lets you see all the artillery assets you control directly in one place, and an option for small unit icons, which reduces clutter. Outside the game, there are map-making and scenario-creation utilities that, theoretically, allow for the recreation of many World War II battles within the bounds of the engine.
While the game covers all the actions of Market-Garden, it does so in "chunksâ€â€"there is no whole-shebang scenario, which wouldn't be appropriate for the scales of units being portrayed. If you already have Red Devils, and grabbed the various patches and utilities that were available on the 'net, you could come fairly close to what you get with this game. But if you missed Red Devils, there's no question you need to get Highway to the Reich or risk overlooking one of the most realistic wargaming experiences in years.
---
System Requirements: Pentium III 500 MHz, 128 MB RAM, Win95
---
Tags: Free Download Airborne Assault Highway to the Reich PC Game Review