3D Ultra Lionel Train Town Deluxe
Kid friendly fun for model railroaders.
You can't get any more family-friendly than this. 3D Ultra Lionel TrainTown is designed for anyone but will mostly appeal to kids, especially those with an interest in model trains – the colorful menus, chuffing locomotives, bells and whistles are all geared to grab their attention. On the other end of the spectrum, it's the browser game you see office girls playing on their computer during coffee breaks..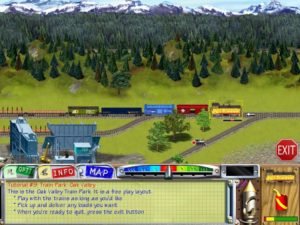 The main point of the game is to 'drive' trains around tracks with the goal of accomplishing various objectives – shunt cargo, drive passenger cars, deliver goods, repair tracks and whatnot. Included are six excellent scenarios that explain the workings of the game quite admirably. You get a bunch of different goods to transport – from food, to lumber and livestock, with different railcar types needed for each type of cargo (try as you may, you can't carry stacks of wood with a tanker). There are railcars for plowing debris off tracks and crane cars for fixing damaged tracks or bridges.
The controls area really simple. You use the mouse most of the time to drive trains and engines around, while some hotkeys are there in the background should you ever need them. In fact the entire game is surprisingly simple to learn and actually interesting to play in its colorful whimsy.
---
System Requirements: Pentium 120 MHz, 16 MB RAM, 50 MB HDD, Win95
---
Tags: 3-D Ultra Lionel Train Town Deluxe Free Download Full PC Game Review