Warlords: Battlecry
Warlords goes real-time!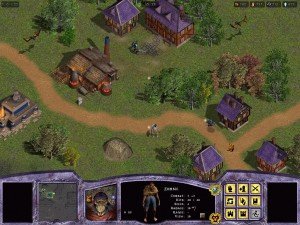 The Warlords series, from renown Australian developer SSG (Strategic Studies Group), has been one of the oldest and best in the turn-based strategy genre, and has held to its roots as others have been swept up into the real-time mania. And thus we arrive at Battlecry, a sub-tree in the Warlords family that abandons its traditional turn-based roots to join the fray. It has similarities with almost every game of its type, but like most good games, its value lies not in how it is similar but in how it differs from the others in its clan, to which it succeeds marvelously.
Of course, it is a Warlords product, so when you study its list of features a lot of it looks very familiar. The list calls for nine distinct races, different hero races with various upgradeable skillsets, twelve possible victory conditions, and a story-based campaign, divided into six "chapters," made up of scripted missions complete with quality voice acting and pre-rendered cutscenes. As introduced into Warlords III, heroes retain characteristics from scenario to scenario, and may choose to retain their most experienced troops as special units in subsequent scenarios. And also as with the original trilogy, the game has a distinct feel of role-playing neatly wrapped inside a strategy game.
And this skillfully executed aspect probably constitutes the best reason to pick up Battlecry. You select your race, profession, and specialty and watch as your alter ego gains levels. Heroes are an integral part of the experience since they are the only ones who can convert neutral mines to your colors for, thereby earning a steady influx of the game's four resources – Gold, Metal, Stone and Crystal. There's no mandatory peasant herding per se, although you do have the option of sending in a couple of lowly miners to speed up the resource generating process. Their presence is just as significant in combat, earning to their influence of nearby troops as well as an uncanny ability to cast a huge number of spells.
They can also go on quests, a strange idea that often seems out of place in the confusion and task overload of a real-time strategy game. Quests have a time limit and successful completion is rewarded with strong allies or a magical item. Items are worn or carried by the hero and offer some improvement to movement, combat bonuses, defense, or spellcasting.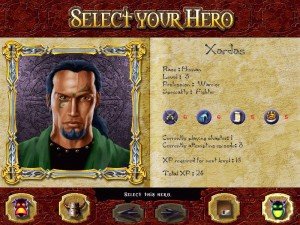 The excellence at which this game was pieced together – including an almost streamlined interface, make it a joy to play. The level of detail and balancing that was put into it is wonderful, and the system is generally intuitive enough that most RTS players can get into it just from playing the tutorial levels, while more advanced gamers can comb through the many tables and guides on playing each individual race to judge on specific building and combat strategies. It's a heap of fun, and people looking for something different and fresh as far as fantasy RTS are encouraged to give this old timer a look.
---
System Requirements: Pentium 233 MHz, 64 MB RAM, Windows 95

IMPORTANT:
This is a download button.
Please
READ THIS
before downloading!
---
Tags: Warlords Battlecry Download Full PC Game Review