Virtua Tennis
If you are a tennis fan then you owe it to yourself to pick up a copy of Virtua Tennis from Interplay Sports. It's a fun, challenging, and well-made title in what is considered to be a cursed genre. The sport of tennis has seen a string of low-quality and poorly implemented games. Virtua Tennis changes that, and tennis fans finally have a game that is worthy of their attention.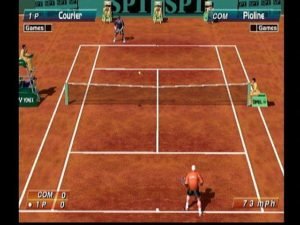 The game sports a continuous season mode, complete with purse money and world rankings. It's hard to classify it as a career mode due to the fact that players do not increase or decrease in skill or ability over the course of time. However, the game keeps track of past tournament winners and career stats for human and computer players alike. The yearly schedule consists of a ten-tourney tour. Each tourney has a different purse and is also played on a distinct surface. The game offers play on clay, grass, concrete, rebound ace, and indoor courts.
The play by play is fairly entertaining. Virtual Tennis is one of the few games that allow for multiple commentators. The game comes with commentary from Barry Davies, Pat Cash, and Sue Barker. You have the option of allowing Barry to do play by play alone or he can be teamed up with Pat or Sue. Better still, the announcers know what's going on; they pay attention and will call the action in a very believable manner. They'll even call the computer player by given name.
Multiplayer is supported via modem, serial, network, or Internet connections. The game offers single matches, doubles, and mixed doubles. Multiplayer games are a real hoot and work well on a lowly 28.8 connection. The only downside to multiplayer is that two players cannot compete individually in a career world tour. Two players can play—but only in doubles matches. It would have been nice if hot seat play would have allowed a shared tour experience.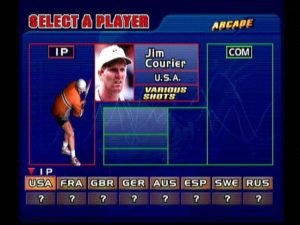 Virtua Tennis is definitely one of the better tennis games around, but it's far from perfect. The biggest problem is with the control and movements of the players. The players move about the court as if on a sheet of ice. This makes the game a bit more difficult at times than it should be. Players have a hard time planting, cutting, and changing directions, both of which are vital in tennis. The other problem is that the players lack any identifiable skills. Yes, players are ranked but it would have added much more if the players had a bit more personality, and adding distinct skills would have accomplished this.
---
System Requirements: Pentium 90 Mhz, 16 MB RAM, Win95
---
Tags: Free Download Virtua Tennis PC Game Review