Virtua Cop 2
The premise in Virtua Cop 2 is to shoot everything that moves while the game drags you along a pre-determined path through a series of environments. While this approach limits interactivity, the designers compensate by controlling the pacing. The game manages to incorporate every action-movie cliché imaginable; jewel heists, high-speed chases, a hijacked ocean liner, speeding subways and various helicopters are all present and accounted for.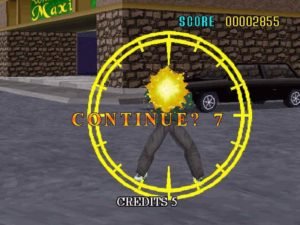 What separates this game from similar games like Rebel Assault are its polygonal environments and characters. They allow for more variety—for example, you can shoot guys in the knees and they'll fall forward, or target their weapon for a "Justice" shot. Ammo is infinite, though you do have to reload. Unfortunately, once you've completed all three levels there's little reason to play the game again. Sega tries to throw you a bone by activating a cheat menu upon completion, which allows you to enable the always popular "big head" mode and randomize bad guy locations, but it's not really enough.
Three levels may work in the arcade, but not in a PC game. But despite the short ride, Virtua Cop 2 is still a fun and chaotic little shoot 'em up game that is every bit as fun on the computer as it is on the arcade.
---
System Requirements: Pentium 100 MHz, 16 MB RAM, Win95
Need more help?
Watch this tutorial video.
---
Tags: Free Download Virtua Cop 2 PC Game Review