Sudden Strike Forever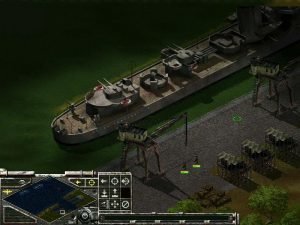 Sudden Strike, set in World War 2, is partially inspired by the Close Combat series, but it banks more towards the C&C school of design. CDV's addon disk of the game follows the same mindset, but adds more stuff. We get one new side with their own weapons, vehicles and troops – England – and also a multitude of campaign maps, multiplayer maps and standalone scenarios galore. The other three sides, the USA, Germany and Russia, naturally get their own campaigns that alternate between solo stealth missions, large scale assaults, or something in between.
Sudden Strike has always had pretty environments and good levels. The same can be said here, with the addition of several new terrain tilesets complete with corresponding buildings and vegetation. You can now roll through desert, tundra and autumn themed missions. New units dot the landscape as well. With over 30 newcomers and countless old ones, it's hard to avoid sensory overload. Plus the units are so small that it's difficult to tell what's what from a glance – an issue that was present in the original. But at its core it's still very much Sudden Strike, for better or worse. And as an addon disk, it does have a good deal of stuff to go around.
---
System Requirements: Pentium II 233 MHz, 32 MB RAM, Win98
---
Tags: Free Download Cricket 96 Full PC Game Review