Rage of Mages
I rage at Rage of Mages.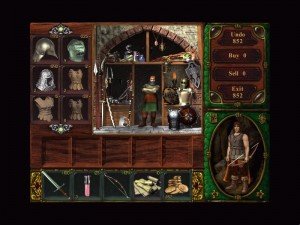 When genres collide, the results can be unpredictable. The blend of role-playing and strategy has had some success in the past, as was the case with Magic and Mayhem or the wildly successful Heroes of Might and Magic series. While unlikely to satisfy hardcore fans of either genre, Rage of Mages is a nonetheless amusing product from Moscow developer Nival. Stats, character building, treasure hoarding, classes – most of the role-playing conventions make an appearance here, folded in a rather curious RTS format.
Rage of Mages originated in Russia, which explains the flat dialog and bad voice-acting along the branching singleplayer campaign. You start the game with a couple of heroes, and based on your actions they evolve from wimps to powerful fighters or mages. From a central town, you're able to equip your heroes and increase their skills or recruit hired blades to tag along on your quests.
Once you've generated a character and chosen your initial weapon (or if you're a mage, your specialization — earth, fire, water, or air), you're launched into the game. If you've played Command & Conquer or any of its countless clones, you already know the interface. Click on your hero, click somewhere on the map to move him, click on the enemies to attack them, etc.
Outside of an unresponsive AI and a rusty interface, the biggest problem here is that the RTS format of the campaign gets repetitive fast. It might take a few levels for this to sink in, but eventually you realize it's just one huge cavalcade of C&C 'puzzle' missions with the added novelty of character development. This is a relatively simple 'take it or leave it' sort of deal, as whether you're looking for a role-playing experience or a fast-paced strategy game, there are still better options out there.
---
System Requirements: Pentium 100 Mhz, 16 MB RAM, Windows 95

---
Tags: Rage of Mages 1998 Download Full PC Game Review