Pitfall: The Mayan Adventure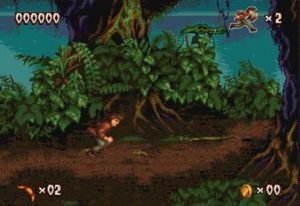 The word Pitfall will bring back fond memories to many a veteran gamer. Pitfall, one of the first ever platforming games, essentially started the video game craze when it was released on the Atari 2600 system back in 1982. The 80's then saw some variations on the original formula. Pitfall II, introduced in 1983 was produced for seven other platforms. In 1989, Super Pitfall hit the Nintendo scene and was succeeded by Pitfall: The Mayan Adventure on the SNES and Sega Genesis. It finally made it on the PC in 1994.
In this game you must maneuver Harry Jr., son of the original Pitfall Harry through 13 levels in an attempt to rescue his father from the spirit of an evil Mayan warrior. There's nothing terribly original about this game, but don't think for a second that it isn't fun. With all the graphics and sounds, it has managed to maintain much of the original atmosphere of the 8-bit classic. All the Pitfall standards are here. From swinging on vines to suffering a tragic death in a tar pit, this is a joy to play. There are a number of hidden levels and sub-games placed throughout the game.
---
System Requirements: 80486 33 Mhz, 8 MB RAM, 4 MB HDD, Win95
---
Tags: Pitfall The Mayan Adventure Download Full PC Game Review